Processes regarding the admission, registration, cross-enrolment, withdrawal, and transfer of students.
Admission
Verify Identity and Eligibility
Details about eligibility for funding can be found in Sections 82, 106.3, 106.4, and 114 of the School Act, Section 16 of the School Regulation and the Eligibility of Students for Operating Grant Funding policy.
To attend school in B.C., documentation must be presented at each school the student is registering in, showing their age, and that they are a Canadian citizen, a permanent resident or an international student. A copy should be kept in the student file. Districts may have processes in place for determining the eligibility of international documentation. The student's legal name, date of birth and gender is required. Canadian citizens and permanent residents must provide Canadian documentation as listed at the link below. Foreign documentation may only be accepted for international students. The legal documents provide acceptable proof of identity and eligibility. If there are differences between legal documents in the spelling or use of names, date of birth or gender, use the document that has the most recent date of issue.
Proof of address is also required to show that the family is ordinarily resident. A copy should be kept on file and source of proof entered in MyEducation BC on the address page.
Obtain Parental Verification
It's recommended that the registration form include a statement similar to the following:

"The information on this form is collected under the authority of the School Act, Section 13 and 79. The information provided will be used for educational program and administrative purposes, and when required, may be provided to health services, social services or support services as outlined in Section 79(2) of the School Act. The information collected on this form will be protected consistent with the Freedom of Information and Protection of Privacy Act. If you have any questions about the information recorded on this form, please contact your School Administrator."
Obtain Consent for Information Use
If the school or district plans to make the information collected available in a recognizable form to any service provider or third party for reasons other than that for which the information was originally collected, the parent or guardian must sign a separate consent form (e.g., media release consent). For that consent to be meaningful, parents or guardians should have the opportunity to review the information and know what they are consenting to.
Consent must be renewed each time information is provided to a service provider or third party for a different reason. Districts and schools may choose to do this by informing parents or guardians that consent will be carried over from one year to the next unless the parent or guardian requests removal of consent. If consent is to be carried over, parents or guardians must be made aware of any changes in information-sharing practices in writing and then be given the opportunity to renew or deny consent.
If consent is not obtained, the student's information must not be provided to any service providers or third parties for reasons other than those for which it was originally collected.
Registration
Registration is the process of entering student data to create a single student record in MyEducation BC. Registration happens each time a student is associated with a "primary school", also known as the "school of record." Correctly following the registration processes will ensure better-quality data and greater efficiency for all current and future MyEducation BC users. Users should ensure that information has been entered accurately in all fields prior to leaving the registration wizard. All information entered should use the appropriate upper and lower case letters.
Search for Duplicate Student Records
MyEducation BC will contain only one record for each student. When a student moves from one school to another, access to that record changes — a new record is not created each time a student moves.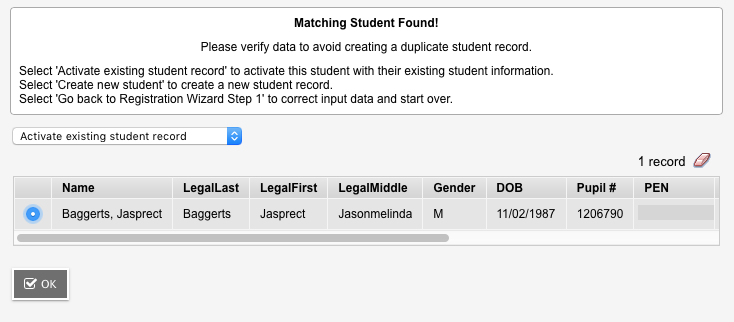 To eliminate the possibility of creating a duplicate student record, a search must be conducted for every new student seeking admission to a MyEducation BC school. Use the Registration Wizard to search the MyEducation BC database for an existing record to determine if the student has been previously admitted into MyEducation BC. Search by legal last name, gender, and birthdate to identify any previously entered records. In order to get the best results, do not use first name in your search. Note that pop-up blockers must be turned off on the workstation in order for the wizard to work.
No MyEducation BC Record
If MyEducation BC does not have a record for the student, contact their last school to confirm that the student has withdrawn and to request a copy of their record. If the student has been withdrawn from a BC school that uses MyEducation BC, there will be a record in the database — return to the Registration Wizard and conduct your search again. If you are certain the student has been in MyEducation BC, continue searching until the record is found.
If the student has never attended a BC school that uses MyEducation BC, enter the information from the legal documentation and the school registration form in the Registration Wizard to create a new student record in MyEducation BC.
Archived Records Students who are over five years of age and have been inactive in MyEducation BC for more than four years are archived. If a new student fits the criteria to have a record in the archives, use the Flag for Retrieval function to bring the record back in to MyEducation BC. This process is an overnight process. Once the record is retrieved, register the student as usual.
Existing MyEducation BC Record
If the student already exists in MyEducation BC and has withdrawn from the previous school, select the student from the Student Pick List. As the enrollment status will be withdrawn, the student is then added to the new school. Update the demographic fields as needed and where legal documentation exists for name changes.

Withdraw students within one business day.
If the student already exists in MyEducation BC but is not withdrawn, contact the previous school to withdraw the student and release or forward any records. The release of the record should occur within one business day of receiving the request. If a student is leaving your school for another school, it is important to withdraw the student immediately so the next school can begin tracking the student. When you withdraw, create a Former School Association, which will allow you to update any records you created for the student after they have moved.
Once the record is released, the student can be registered.
If a student has a status of PreReg, contact the other school to determine which school should have the student record. Never register a pre-registered student without communication between schools.
If a student requests cross-enrollment (i.e., concurrent registration at more than one school), create a Secondary School Association. This process requires a parent or guardian signature on a registration request. The student can be enrolled immediately, as no release is required from the primary school.
Updating Existing Information
Update the student's information only if there is new legal documentation verifying that change is necessary. For example, if Citizenship and Immigration Canada corrects information on an official immigration document that had contained an error. In this case, the student will have to provide new, corrected immigration papers in order to have a change made. A copy of this documentation should be kept in the student file and an inclusion record should be added (for more information on inclusions, see Student Records>Permanent Student Record (PSR) Cards).
If the student's name has been changed officially, the student must provide a copy of the court order approving the legal change of name or a legal name change certificate. A copy must be kept on file in the office. When changing legal name information, the Ministry of Education requires a copy of the legal documentation supporting the change.
If a student requests changes to their demographic information, the school should obtain written confirmation from the parent or guardian to ensure that the information is correct. If the student has reached the age of 19, no parental confirmation is required.

No one should register a student with the status of PREREG without having a conversation with the other school.
Pre-registered Students
MyEducation BC allows you to register students who will be coming to your school in the future. This allows schools to create schedules for future students. Because pre-registered students are not active in their new school until next year, it is possible for a school to query and register a student who has already pre-registered at another school. When this happens, the student disappears from the pre-registration list at the first school and is registered at the new school, meaning there will be two entry records on the student membership record and no withdraw record. This is an issue when parents try to pre-register at multiple schools because they are undecided.
The standard practice for all schools is that no one should register a student with the status of PreReg without having a conversation with the other school. If it is decided that the student is actually going to attend the other school, the first school needs to withdraw the student with the code "No Show" in order for the membership record and PSR to be correct. Phone communication is required.
Enter Demographic Data
Collect student demographic information by completing the required fields in the MyEducation BC Registration Wizard — required entries are indicated with a red asterisk.
International or foreign students who have a "Canadian name" should have the Canadian name entered in the Usual Name field, not in brackets in the Legal Name field.
Date of Birth
This must reflect the information on the acceptable official document.
If a student submits a passport, use the birthdate on it.
On the Record of Landing, Study Permits, and Confirmation of Permanent Residence forms, the date of birth is clearly stated under "Date of Birth" or "Date de Naissance." These forms use the format of day/month/year.
MyEducation BC allows multiple methods for entering the date. The MyEducation BC standard for dates, once entered, is dd/mm/yyyy, e.g., 31/12/2005.
Gender
Should be entered as it appears on the official document.
Gender is shown in Box 8 on the immigration papers and is indicated by the number 1 (male) or 2 (female).
Preferred Gender (Optional)
This is an optional district-owned field that may be populated by a district by adding preferred gender values to the District Preferred Gender Reference Table.
Information should be entered as decided by district policy.
Address Fields
All addresses entered into MyEducation BC should conform to Canada Post conventions where possible to minimize data quality issues.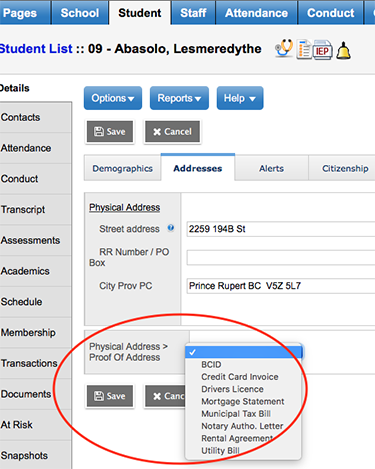 There are some exceptions that do not fit the Canada Post conventions. MyEducation BC allows those exceptions to be recorded, e.g., 2121 Broadway or 212 Highway 18, etc.
Students may not be able to provide an address when they apply for admission to school. For example, a student may apply in the spring for admission the next school year, knowing they will be moving during the summer. To permit processing of the information necessary to schedule the student, schools are all asked to enter the address as "000 Unknown St." This must be cleaned up in the regular student verification process in the fall when confirming proof of address to ensure the student is ordinarily resident in BC.
The Proof ofAddress field should be completed. This is a helpful field in case of audit.
Language and Culture
Complete the Band of Residence field for students living on reserve. This is a required field for 1701.
Contacts
Contacts are added from the Student Top Tab and Contacts Side Tab. Below are the contact types and descriptions. It is important to note that the contact area is where legal custody and the parent/guardian of a student are indicated. For students on a Temporary or Continuing Custody Order, ensure that the correct contact type is selected and that the Guardian check box is selected. A guardian is defined as a person who has parental authority. Any student who has a guardian other than both parents will also need a Legal Alert entered and a legal document in their student file. The Legal Alert is not automatically generated in MyEducation BC.

Note that there should be only ONE record for ONE person in MyEducation BC. When you enter a contact for a student, use the picklist to ensure the contact is not already in MyEducation BC. Avoid creating duplicate records for any person. When duplicates are generated, they will need to be merged by the District L1.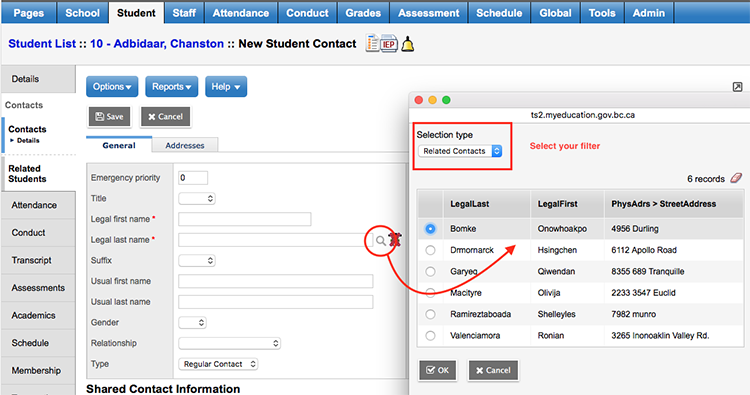 "Sam and Alice Smith" is not a recommended contact because it represents two individuals. Schools should create separate records for each contact.
The minimum information needed for a contact is First Name, Last Name, and Home Phone. More complete information is recommended.
When a parent requests changes to student contact information, delete the outdated contact and add a new one.
If the contact shares an address with another person (student, family member, etc.) use the shared address function to connect them.
| | |
| --- | --- |
| CONTACT TYPE | DESCRIPTION |
| Continuing Custody Order | When a student is on a Continuing Custody Order they will have a Continuing Custody Order contact who will usually also be the guardian. A legal document and PSR inclusion are likely necessary. |
| Emergency Contact | Contact for short term local emergencies who would be able to pick up the student and care for them if the parent or guardian is unavailable. |
| Out of District Contact | Contact for longer term local emergencies who would likely be unaffected by the emergency and be able to pick up the student and care for them if the parent or guardian is unavailable. |
| Temporary Custody Order | When a student is on a Temporary Custody Order they will have a Continuing Custody Order contact who will usually also be the guardian. A legal document and PSR inclusion may be necessary. |
| Regular Contact | Non-emergency contact. Parents are Regular Contacts in the system. |
Contact Priority
Contacts in MyEducation BC need to be given a priority number in order to work correctly with the BC Student Information Verification Form.
Don't use emergency contact priority "0"
Do assign each contact a unique emergency priority number
Do assign contacts with parent/guardian authority the top priority positions (e.g., 1, 2)
Do ensure that the box is checked for contacts with parent authority (parents, guardians, CCO)
Do ensure that parents are listed as contact type "regular contact"
Do ensure that emergency contacts are designated with contact type "emergency contact"
Do ensure medical contacts are designated with contact type "other"
Do ensure that doctors are assigned 99
Do ensure out of district contacts are designated with contact type "out of district"
With these rules, the student verification report will pull the correct contacts in the order you have listed them. If a contact has type CCO and the parent authority box is checked, the CCO contact will appear under the parent heading of the verification form.
With these rules, emergency contact field sets (which are limited to three contacts) will include the parents.
Contacts identified as "other contact" will not print on the BC Student Information Verification form.
Parents identified as "regular contact" who do not have parental authority checked will not print on the BC Student Information Verification form.
Updating Contacts
When a parent requests changes to a student contact, delete the outdated contact and add a new one. Only change the name of a student contact with extreme caution. Changing the name of a student contact may create errors in other records that share the contact.
Shared Addresses
Students generally live in a home with other people. These contacts should be linked to the student using the shared address function. This allows the office to automatically update all linked addresses by changing only one of them. It's important to unlink addresses if there is a change in address sharing.
Related Students

Students can be linked to their siblings using the related student side tab. This is useful in emergencies where you need to contact a sibling at a different school or where siblings have different last names. If the information is known at registration, it can be entered using the Registration Wizard.
Deceased Parent or Contact
Remove a deceased parent or contact from the contact list, and add a memo to the student record, if needed. If a district wants to record deceased dates, add these to the memo field. Father Deceased Date and Mother Deceased Date fields are not needed by the system and should not be used. Alerts should not be used to communicate this information. Notification to teachers and counselors should occur through a more personal form of contact.
Enrollment Information (Membership Side Tab)
After registering a student in MyEducation BC, the enrolment information can be seen in the Membership Side Tab. Enrollment information includes:
Type: Enter, Withdraw, Status Change, YOG Change (E, W, S, Y)
Date: when the status is changed
Code: Entry Code and Withdrawal Code
Reason: not required
Status: The enrollment status on the day the entry is made.