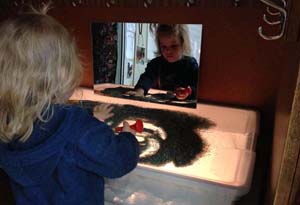 3.1: Activities are designed to purposefully support all the learning goals under the four Areas of Learning in the British Columbia Early Learning Framework (2008).
This photo demonstrates one area of learning, Exploration and Creativity.
Rae-Lynn Varga
StrongStart BC Facilitator,
Muheim Memorial Elementary, Smithers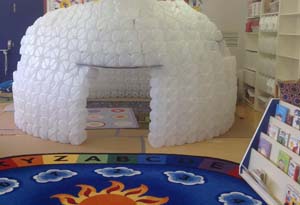 3.7: A wide variety of activities and experiences are provided that support and are responsive to children's interests.
"I was planning to make Elmer the Elephant out of gallons of milk, but one of the mothers said her son is very interested in the Arctic. We started talking about this and decided to build an igloo. It took a lot of time to collect the 500 to 600 gallons of milk. Parents were helping me, and the children were proud to bring in their gallon of milk every week. We had the school community collect gallons for us as well as a local coffee shop. We started building it in January and now it's done. And it all started because of this one boy's interest in the Arctic."
Enith Teran
StrongStart BC Facilitator,
Ecole des Pionniers, Port Coquitlam