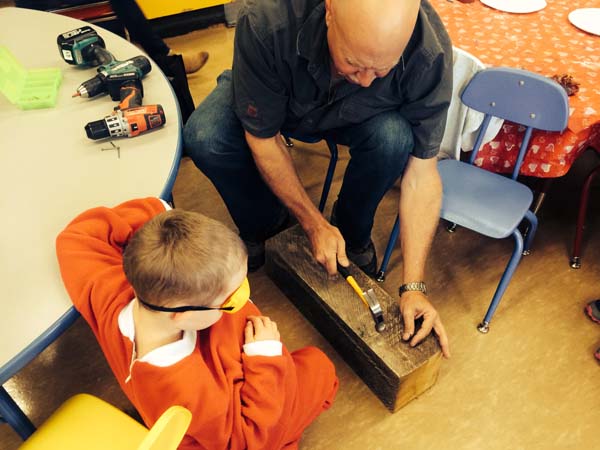 4.1: Respect for families is demonstrated in multiple ways in the program.
"Another learning activity for September was carpentry. We set up a workshop in the room and the children had opportunities to use tools, manipulate hammers, nails, screwdrivers and a variety of wood material. We had a special visitor come to the program to show the children how to safely use tools: hammers, nails and even a working drill. The children made a wooden bench, which they later painted and now has a place of pride in the book corner."
Joanne Bishop
StrongStart BC Facilitator,
Cedar Elementary, Campbell River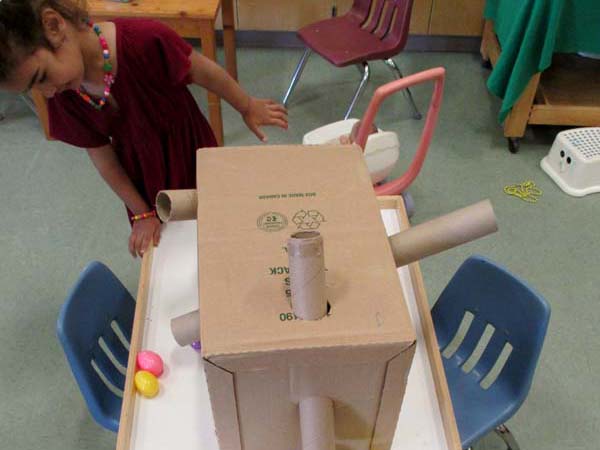 4.3: The program supports adults in understanding how to extend their child's early learning at home.
A Box and Tube Toy
"One of my goals this year was to improve on the activities I have available for toddler. Another goal was to continue to create toys from inexpensive materials that families could replicate at home if they wished. Keeping that in mind, as well as noticing that the children are still very interested in the plastic Easter eggs that we have been playing with for the past month, I created this toy. Using an apple box, I flipped it upside down and inserted tubes from side to side. They loved it! They noticed the tubes and started dropping the eggs in. It didn't take long for the older children to realize the eggs were coming out the other end. The younger children spent time looking into the tube to see the egg. Was it inside? Where did it go? One time, I noticed a younger child watching a large group of children playing around the table and then peek in the tube not quite figuring it out. Other times we moved the box to the floor so the smallest children could access it easily. We added baskets to catch the eggs; sometimes they would bounce out and send us scurrying after them. That added another dimension to their play. Even though my initial intention when creating this toy was for the toddlers, I'm constantly reminded that children at any age are still exploring, experimenting and revisiting their environment."
Maureen Wagner
StrongStart BC Facilitator,
Brooklyn Elementary, Comox Valley
4.4: Families are encouraged to build relationships with each other.
"StrongStart has given me the opportunity to meet many other families (and a very knowledgeable teacher) and swap ideas/stories with them about the day to day experience of parenting. Sometimes, StrongStart is just what I need to get my tired self out of the house, and I love that the time I attend is flexible … If I had to choose only one activity for my child to participate in for her pre-school years, it would be StrongStart!"
StrongStart BC Parent
Brooklyn StrongStart, Comox Valley
"Once a month we have a potluck lunch or dinner where any family that wants to share how to make one of their family's dishes does so. It all started with parents asking a mother to show us how to make perogies. She was excited to do so. Since then we've made pasta and roti. Food is a great way to share cultural diversity among the families."
Colleen Friendship
StrongStart BC Facilitator,
Queneesh Elementary, Comox Valley